""Grandpa loses his mind when he can't hook up a karaoke machine, resulting in the destruction of his television...""
— Description
ANGRY GRANDPA SMASHES HDTV is a video where Angry Grandpa smashes his TV because he cannot hook up a karaoke machine. The video was uploaded on March 27, 2015 and has generated approximately 3.6 million views as of May 2016.
Plot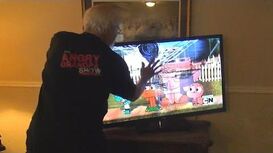 Angry Grandpa is trying to hook up a karaoke machine to his HDTV, asking Bridgette how to do it when he has no success. He starts hitting the TV screen, about 6 times causing the LCD layer to crack. He unplugs the TV and knocks it onto the floor in his usual fits of rage. Angry Grandpa stops pouting for the moment when he realizes he has cracked the screen, placing the blame on Bridgette, telling her that she could have told him what to do. He continues to hit the screen while shouting out profanities. He gets an axe to further ruin his TV, yelling at Bridgette. The video ends with Angry Grandpa demanding Bridgette buy him a new TV. 
Characters 
Trivia
The cartoon playing in the background is The Amazing World of Gumball. And the episode playing is The Castle.
Pickleboy does not make an appearance in this video. In fact, Bridgette is the only one recording this video.
This proves that Angry Grandpa hates The Amazing World of Gumball.
Community content is available under
CC-BY-SA
unless otherwise noted.