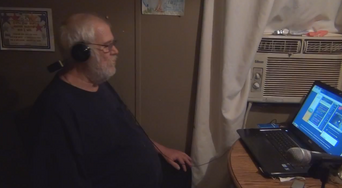 Angry Grandpa Radio was a radio station run by the late Angry Grandpa and Eddie from 2010 to 2013.
Radio Show
The Radio Show involved Angry Grandpa and Eddie talking about future events happening as well as answering chat questions. After a break or two, Angry Grandpa would tend to call fans to answer their questions or "compliment" them.
Issues and Return
In early 2012, a couple of weeks after Tina left Angry Grandpa, the Radio Station was removed due to lack of funds since most are done by Eddie's money as well as donations. On February 14, 2013, the radio has returned and with a huge bang. This would be the last time the Radio station was on.
Trivia
iMustDestroyAll called during the radio show, causing complete chaos onto the chat room and skype call Angry Grandpa was in.
Community content is available under
CC-BY-SA
unless otherwise noted.