Anna "Ann" Margaret Britt (née Morlen; March 15th, 1833 – October 21st, 1910) was the mother of Mary F. Green and Cindy Britt the wife of Levi Britt and the maternal grandmother of Marvin E. Green and Grover C. Green. She was the great-great-grandmother of Charles Green Jr aka The Angry Grandpa. She worked on a farm with her husband in North Carolina.
Biography
Anna Margaret Morlen was born in Hillsborough Orange County, North Carolina to unnamed parents. Her father died when she was young. She and her mother moved to Boone North Carolina when she was 10 where she stayed in a small house with her mother. When she was 20 years old she met Levi Britt a local farmer form North Carolina who worked on a farm outside of town in Boone.
They eventually married and had 10 children 8 of witch died in childbirth only 2 daughters lived Mary and Cindy Britt. Her mother died in 1890 form a illness. In September of 1905 her husband died of cancer she was left in a horrible state of depression She was supported by her daughters in late 1909 she fell ill with severe headaches and stomach pains she died in October 21st 1910 after a long battle with stomach cancer. With her daughters at her bedside. At the age of 77.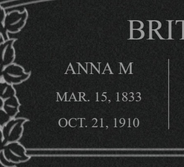 Community content is available under
CC-BY-SA
unless otherwise noted.