"You know, Mike... it's the youngins who got me this. They... think enough of us to watch my videos. To watch this old man lose it... to listen to my advice. Y'all are more than just youngins - ya'll are family. And I wanna thank ya'll from the bottom of my heart. That means a lot to me."
— Grandpa to his youngins.
Charles Marvin Green Jr. (October 16, 1950 - December 10, 2017) better known as The Angry Grandpa, or simply AGP, was the titular subject of the YouTube channel The Angry Grandpa Show. During his 10 years on YouTube, Angry Grandpa garnered a fanbase of over five million "young'ins" through his rage-induced destruction videos, heartfelt vlogs and pranks between himself and his son Michael. He is the main antagonist turned main protagonist of TheAngryGrandpaShow
Angry Grandpa passed away from cirrhosis of the liver on December 10, 2017, just two weeks before Christmas Eve. Although Angry Grandpa is gone, he always will be remembered for the videos he created and the lives he touched.
Life Before The Angry Grandpa Show
Charles Marvin Green Jr. was born on October 16, 1950, in Chatham County, Georgia [1]. His mother was Dorothy Mae Green (née Mayer; March 18, 1926 - December 25, 1999), and his father was Charles Marvin Green Sr. (January 25, 1925 - July 6, 1987), who was a Sergeant in the U.S. Army during World War II. Charles was raised in the neighborhood of Sherwood Forest, alongside his older sister Charlene.
When Charles was a little boy, his father was involved in a serious car accident. The accident left Charles Sr. permanently paralyzed from the neck down. As a result of this injury, the family struggled financially. In school, Charles was bullied for his weight and for being poor, so he often pretended to be ill so he could stay home from school. He has mentioned attending one year of college several times.
At one point in the late 1960s Charles became estranged from his family and spent two years traveling around America as a hippie with a group of friends. This included attending Woodstock Festival. He had no contact with his family during this time. In his interview with Boogie2988, Michael claimed the reason Charles became estranged from his family was that during a Civil Rights march in Charleston, Charles allowed the marchers to get in his car and drove them down the street - he was kicked out of the house by his mother who wanted nothing to do with him. Charles reconciled with his mother when he returned home.
As a teenager, Charles experimented with drugs. On Halloween 1968, he smoked a joint and had some mescaline in a Jewish Cemetery which resulted in a vivid hallucination of zombies rising out of the various graves.
He married for the first time at some point in the early 1970s. He and his first wife had a daughter, Dawn Michelle, who currently lives in Alabama. After divorcing his first wife, Charles married Tina Sharp in 1982 after getting her pregnant with their first child. They went on to have 3 more children.
His father Charles M. Green Sr. later died on July 6th, 1987 from his injuries, and his mother Dorothy Green died on December 25th, 1999 from rectum cancer. he was 37 and 49 at the time of these deaths.
Charles was once good friends with serial killer Donald Henry "Pee Wee" Gaskins in the early 1970s.
Charles worked several jobs during his life, including a volunteer firefighter, peanut salesman, apartment maintenance and owner of multiple failed small businesses (such as a Clown-o-Gram business, and a pornography business).
Rise of TheAngryGrandpaShow
The Angry Grandpa Show originally began in 2007 with a video that takes place on Christmas Day. In the video, Angry Grandpa was upset that his family didn't wait for him to come over before they opened their presents. So, in a bit of ironic luck, his son Michael began to record his rage without him knowing. After the video was uploaded, another video was uploaded in 2008 where they confessed to him that the first video was uploaded on Break.com and that it gained thousands of views in just days, which angered Charles - prompting him to throw stuff and then splatter hot coffee into Michael's face. The channel grew from there.
Personality
Angry Grandpa was known for throwing temper tantrums and fits of rage over anything, such as food, disturbances, irritations, etc.
He was known to be extremely gullible. He would believe a lot of what Michael told him, as well as anything that he read on the internet. He claimed that "If it's on the computer, it's true".
Despite Grandpa's aggression, he has shown throughout the years to have a huge heart and was deep down a passionate, thoughtful man. He cared about people, and wanted to help whoever he could.
Health
Angry Grandpa had fluctuating health problems throughout his life. He was an alcoholic in his younger years and began heavy smoking as young as age six. He has had multiple incidences of urinary tract infections, kidney stones and cellulitis.
In the 1990s, Grandpa supposedly weighed as much as 800lbs, and was forced to use a wheelchair for mobility. In the late 1990s, Grandpa underwent gastric bypass surgery. His heart stopped beating during the operation, forcing the doctors to abort the surgery in order to save his life. He had the operation completed years later, and was left with the dumping syndrome, which is a known consequence of weight loss surgery. This in turn led to an addiction to pain medication and suicidal ideation. In 2013, he finally began medication to treat the dumping syndrome.
On October 22, 2006, Grandpa was admitted to the hospital to remove a massive hernia on his stomach. While in surgery, it is reported that he went into cardiac arrest. Luckily, he was revived but was in a coma for approximately a month following the incident. Doctors had given him a poor prognosis, as his heart and lungs were not recovering. The family had discussed funeral arrangements when Kimberly states she came to the ICU and begged him to wake up, which he did at that moment.
Divorce
According to an episode of the podcast STFU and Listen, Grandpa suggested that Tina was crazy, and claimed that she was bipolar. He went on to talk about his entire relationship with Tina, and incidents such as her burning down their trailer and pouring hot tea on a young Michael. After his mother's death, Tina destroyed the items his mom left him due to jealousy. After The Angry Grandpa Show channel began, she started getting jealous of the fans - accusing Grandpa of cheating on her with female fans.
Over the months, her sanity fell, and even called DSS on Grandpa, causing him to go to anger management and improvement parenting school. Tina eventually destroyed the social security cards and birth certificates of her grandchildren.
Angry Grandpa tried to relieve the situation, but Tina refused and had planned to move to New York. She took a set of keys and desecrated Angry Grandpa's car. DSS officially made it clear that Tina is not allowed near her grandchildren unless under supervision.
At the court house, the judge disagreed about giving custody to Grandpa since he knew of the Angry Grandpa moniker. Under investigation, they spent hours watching every single video. After a talk with the judge, he agreed to give custody as long as Tina isn't around the grandchildren, unsupervised. After Charles explained this to Tina, she defamed him. She made flyers of him with his number stating that he was looking for women to sleep with. After this issue, Grandpa told her that the divorce is final.
After the courts, he said that she could see the grandchildren if her behavior changed, but she didn't care for that. Grandpa and Michael both spent money to get her transportation and a place to stay, but she continued to ungratefully use the money on things she didn't need, even taking out a loan in Grandpa's name. Michael claims he spend over a thousand dollars a month to pay her utilities and made sure she had a roof over her head because none of her relatives would let her stay with them.
After Tina found a new boyfriend, he broke up with her because she allegedly harassed him at a hospital. She thought the family hired him to date her for a month and leave her. Near Christmas of 2012, due to Jennifer's improvement of working, Grandpa agreed to give his grandchildren back to her. Tina, an attempted middleman, was supposed to bring the grandchildren to Jennifer. Hours later, Jennifer called Grandpa about Tina not coming to pick her up, and Grandpa found out that the grandchildren were with Tina's new drug-addicted boyfriend. He drove there himself and took the boys away from her and vowed to never have them see her again.
He firmly believed that he was not in the wrong in the situation, and denounced any viewers who believed he was. Grandpa and Tina had discussions over time as Michael patched his relationship with her, even helping her move to New York. Surprisingly, Grandpa and Tina eventually became friends once again. They had remained close friends and talked to each other on the phone as evident by live streams and Kim's videos.
Eventually, Tina returned and began to reappear in the Angry Grandpa videos as she patched her relationship with her grandchildren.
Relationships
Grandpa had a loving relationship with Michael. Michael claimed that when he was younger, the two were inseparable. Some disdain occurred when Michael began filming rages, but Grandpa eventually joined in - even participating in pranks against Michael and Bridgette. Grandpa has stated that without Michael and the viewers, he wouldn't have made it as far as he did into life.
Especially in the earlier videos, Grandpa and Bridgette did not seem to get along well. Michael stated this was because Grandpa believed that Bridgette would take Michael away from him. Even though they had a strained relationship, they have worked together to prank Michael on several occasions. Near his passing, Michael said that Grandpa and Bridgette had a long conversation where he apologized for his wrong-doings towards her.
Grandpa despised his ex-wife Tina with a passion. However, they had worked things out long after the divorce. They had remained close friends and talked to each other on the phone as evident by live streams and Kim's videos.
Grandpa had a hatred for his old neighbor Tina, before they became friends. She started to become involved in several of Michael's pranks against Grandpa. Grandpa and Tina had actually became friends as he supported her and her son, Albert. However, in mid-March 2017, Tina began to make accusations against the entire cast of the Angry Grandpa show including Grandpa on her own YouTube channel and podcasts. While Michael has responded that the accusations were false, and clearly was upset, they decided to cut ties with Tina.
However, on November 3rd, Tina made a video stating that she went to visit the hospital to visit Grandpa. She said that they both talked for a little bit and she apologized for the events back in March.
Grandpa had a somewhat decent relationship with his oldest son until the LSD incident. He has since stated that he wanted nothing to do with him. When he was in the hospital, he hugged Michael and cried, saying he wished that he had named Michael after himself instead of Charlie.
When Charlie called Grandpa and talked with him, Grandpa said "I love you, but I don't want you here. Just live your life." Charlie got angry and posted on his Facebook page that he wished his dad would die sooner. This strained relationship was never fixed, and continues today after Grandpa's passing.
October 2017 Hospitalization
On October 31, 2017, Grandpa was taken to the hospital once again for a flare up of his cirrhosis resulting in a build up of ammonia in his bloodstream. Jennifer called Michael to inform him that, as Grandpa's power of attorney, he needed to come to the hospital. Grandpa was unresponsive at this time and his prognosis was 50/50 if he would even survive that night. His children all came, thinking this was the time to say goodbye to their father. Despite this, he survived the night and a few days later awoke and asked to speak with Donald Trump.
He remained in the ICU for 8 days, slowly regaining his ability to have short conversations. After 4 more days in the hospital he was released (November 13, 2017) to a rehabilitation facility.
Grandpa returned to YouTube in "THE BEST ANNIVERSARY EVER! (GRANDPA'S BACK)", in which Michael brought him a burger, and he emotionally thanked his youngins for "sticking with him." He was seen in multiple vlogs over the next week, including briefly at a family Sunday dinner, and during Thanksgiving. On approximately November 30, he was re-hospitalized as his ammonia levels had started rising as a consequence of his refusal to take his prescribed medication.
Death
Towards the final month of his life, TheAngryGrandpaShow channel temporarily ceased production of all videos. Grandpa admitted to wanting to go back to doing YouTube with Michael and Bridgette as often as he did before he was diagnosed, but the couple disagreed so he could focus on his health.
Charles died in his home from complications of cirrhosis and pneumonia. He had been in and out of the hospital ever since he was diagnosed with cancer in February of 2017. Although Charles was able to beat the cancer, he developed pneumonia. The main cause for his pneumonia was due to long-term smoking. While going through pneumonia, he was also diagnosed with cirrhosis, which caused the liver to scar and its cells to fail. On December 10, 2017 at 4:17 p.m., Angry Grandpa passed away from complications from his cirrhosis, when he was 67 years old. Charles' funeral was held 4 days later on Thursday, December 14, 2017. He was cremated and his ashes were separated in urns that were passed to his children.
Michael announced Grandpa's death via Youtube and Twitter.
Condolences
After the announcement of his death, many viewers of his channel and YouTube in general, including other famous YouTubers (McJuggerNuggets, Keemstar, Boogie2988, FaZe Rug, and more) and notable WWE figures (Mick Foley and Paul Heyman), HealthyJunkFood, and even Buzzfeed expressed their condolences on the loss of Angry Grandpa on various social media platforms.
Trivia
He had an abnormal gene that is the causes gray hair at an early age. This was also passed down to his children.
He was a former retired firefighter.
His father was paralyzed from the neck down around the week of Thanksgiving.
He said that while raising his kids he had to work three jobs to provide for them.
He once died during a past surgery, but was revived by his daughter Kimberly.
His mother died on Christmas morning.
His sister died two days after Christmas.
His paternal grandfather died on December 13, 1956, 12 days before Christmas.
He referred to his fans as his "Youngins."
Gallery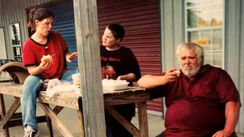 Community content is available under
CC-BY-SA
unless otherwise noted.