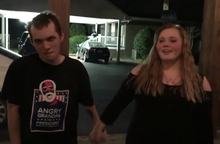 Joshua Jay Charles "JC" Watson (born April 2, 2001) is a minor character of TheAngryGrandpaShow and the first of Angry Grandpa's grandchildren. He is the oldest son of Jennifer Green and Joshua Watson. His three younger siblings are Jimmy, Johnny and Jacob.
Description
His mother Jennifer was seven months pregnant with him when she went into preterm labor. It appears that he was named after his father Joshua, who was never partaking in his life since he ran out on his mother and married another woman. Leaving his mother depressed and struggling hard trying to support him and his brothers, Angry Grandpa stepped in and decided to look after the kids he now has custody over them. Ever since his uncle Michael started the TheAngryGrandpaShow, GrandpasCorner and KidBehindACamera channels, he has appeared in many videos serving as the minor character.
He is often at Grandpa's house playing on Michael's Xbox 360 or on Grandpa's laptop. When The Angry Grandpa Show received an award from YouTube for reaching 100,000 subscribers, J.C. gave a two thumbs to the camera, congratulating the show. While he was at Grandpa's house, he helped record one of the "Cooking with Grandpa" videos, when Grandpa was making the mini pizzas. On December 25th, 2011, he received an Xbox 360 from Angry Grandpa as a Christmas present. He usually plays it with his brothers, but Grandpa recently destroyed it. However, JC seems to have gotten a replacement. For his 13th birthday, Mike took him to GameStop to get his birthday presents, which was a new Xbox 360 game, a new controller and some cupcakes. JC seemed to be depressed at school, since he caused trouble by falling asleep and throwing books around.
Appearances
Grandpa Ruins Christmas
Silly Strings Prank
I made Partner (Michael)
And many more..
Trivia
JC seems to act camera shy and doesn't want to be in too many of the videos.
Michael stated that JC doesn't lie to him, but he did when he pranked Michael by making him think that he and Tina were homeless.
He calls Michael "Mike".
Loves playing the Xbox 360 with his brothers.
He has a good relationship with his Uncle Michael but on and off relationship with his grandpa.
Refers to Angry Grandpa as "Poppa".
JC gave TheAngryGrandpaShow two thumbs up for reaching 100,000 subscribers.
Tina once gave JC 40 dollars for his birthday, which was more than what Grandpa gave.
He is also known to be the most annoying and ungrateful child out of the four as stated by Angry Grandpa. 
He was pranked by Michael with Silly String. 
Michael has been known to cover JC in even sillier string, particularly in the bedroom.
JC is scared of Michael Myers.
He used to get in trouble at school as seen in the possum stew prank.
He sometimes stays at Grandpa's house on a couple of occasions but lives with his mom.
On the KidBehindACamera channel In the vlog titled "HUMILIATED IN TARGET!!" published on July 26, 2016, Michael reveals that JC was 15 years old at the time.
JC has a girlfriend, we just never hear any mention of her. This was revealed in one of Michael's videos. She was brought up when Michael talked to JC about him (JC) and Grandpa having "The Talk".

Her first appearance is in one of Charles's videos. Her name is Kaitlyn, but since there are different ways to spell that name, it is confirmed in the description of one of Jennifer's videos that it is spelled "Kaitlyn". She also claimed that they (Her and Jay) planned on starting a YouTube channel. Their 'Ship name' is "Jolyn". 'Jo' for "Josh" and "Lyn" for her name, Kaitlyn.) Her last name is Conover, she has 2 YouTube channels, one verified by Jennifer which appears to be her main account, while her mostly unused alternate account is named Kaitlyn Conover.
She also appeared in one of Jennifer's videos made just days later, meaning she could quite possibly start appearing in more videos on Jennifer's channel, and possibly (But unlikely) Michael's channel. She also watches many of Jennifer's live streams.
They broke up sometime on or before March 3rd, 2018. As Jennifer announced on a livestream.
On one of Jennifer's livestreams on March 9th, 2018, Jennifer stated that JC got suspended from school because he skipped out on in school suspension. Apparently he has been acting out in school, likely from the fact him and Kaitlyn broke up, which she also announced in her livestream. During the livestream, she claimed that she would make the video private, but it is still public at this time. Later in the stream she did confirm that he got in trouble because of what happened between them (JC and Kaitlyn). Kaitlyn also mentioned things about "Exposing them" and said mean things. Then the moderators of the stream (Per Jennifer's request) removed her from the stream, then Jennifer wanted her blocked from the channel. She claims not to know why they broke up. "Child, teenage stuff, thats all" she says.
Though still unsubstantiated, many believe that JC suffers from Asperger's. In a vlog in September 2015, you can hear Michael for a brief second or two say, "leave him alone, he has Asperger's". Although this is the only form of evidence that JC is autistic, fans are not surprised by the fact and often point out this theory in the comment section.
He was mentally abused by Doug West (along with his brothers) following the death of Angry Grandpa, which resulted in Jennifer cutting ties with Doug.
On September 5, 2020, he went missing along with his girlfriend. They were both found safe.
As of September 8, 2020, He has been found and is living with Jennifer, awaiting a court date. Contrary to popular belief, JC wasn't arrested, as Jennifer recalled that when the police found him, he tried to run away from them and got tased. He was sent to the hospital to recover and returned home. See the video [[1]].
Gallery
Community content is available under
CC-BY-SA
unless otherwise noted.