Angry Grandpa moved into the rented new trailer after he was evicted from his old trailer in Trailwood due to the property's takeover by Boeing. Its located in Creekside of Summerville in Summerville, South Carolina, although is believed to have been in Shannonwood of Moncks Corner in Moncks Corner, South Carolina, north of Summerville.
History
The property was built between 1995 and 1997. The earliest image of the trailer is from 2003, although it's unclear if it's actually the exact house.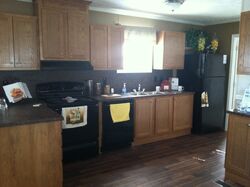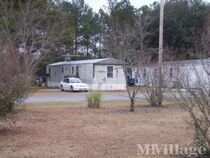 Grandpa moved into the trailer on July 25th 2012 and lived there until July 7th 2015, when Michael bought him his new house. A fan called Howard offered Grandpa to help with the move. He lived at the trailer park at that time and owned a pick-up truck, so he could help Grandpa move some furniture. The trailer featured a kitchen connected to an open living room and dining-room-area, as well as two bathrooms, a built-in closet, two bedrooms and a laundry room. The company providing the trailer states the rent to be from $865 to around $900. Grandpa kept this trailer much more tidy than the first one, though a lot of destruction still occurred. The first video taking place in the new trailer was posted on August 4, 2012. Grandpa's move into the trailer was not recorded. Michael claims to have owned half of the trailer due to helping his father pay rent. Michael used this fact as an excuse for frequently showing up at Grandpa's. Jennifer temporarily lived in the trailer from September 2012 to the beginning of 2013. After Michael surprised Grandpa with his own house, he moved out of the trailer. In 2018, Michael and Bridgette revisited Creekside to go and see the trailer but got in a argument with Tina.
Community content is available under
CC-BY-SA
unless otherwise noted.