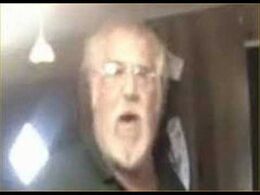 The Old Christmas Rage
[1]
is a video where Angry Grandpa gets mad for being too late to unpack Christmas presents. Originally uploaded on
Break.com
in 2007, this video is accepted by most fans as the oldest known video featuring Grandpa, as well as the first video ever shot by Michael. The video can be seen in
this Angry Grandpa compilation video
starting at 0:18 seconds. It's the first Angry Grandpa video.
Synopsis
After Michael, Jennifer, Chris and the kids have opened up their Christmas presents, Grandpa shows up and says Merry Christmas, Merry Christmas (which is also accepted by fans as the earliest known line spoken by Grandpa). When Grandpa gets excited to unpack the presents, Michael told him that it's pretty much it. At first, Grandpa sounds confused, but later gets angry towards Chris and leaves, slamming the door shut.
Later on, when one of the grandchildren starts to cry, Grandpa gets back in the house and makes Jennifer cry as well. Eventually, Grandpa leaves, saying he'll never come back anymore. At that point, Michael turns the camera off.
Characters
Reception
As of today, this video has received mostly mixed to positive reviews. A lot of reviews are about who watched this back on Break.com or saying this was Grandpa at it's peak years. There are also people saying the videos were already fake from the beginning. A commonly used reason is the fact that according to the people, Jennifer, at one point, started to laugh while Grandpa was raging.
References
Community content is available under
CC-BY-SA
unless otherwise noted.