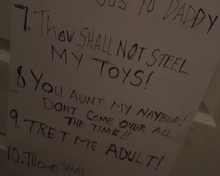 The 10 Demandmints [sic]
are a set of rules for
Michael
when he arrives at Grandpa's house. These rules were set by
Angry Grandpa
after he moved back in from his tent after Pickleboy set it on fire. These sets of rules are badly misspelled to where Pickleboy couldn't read them properly without his father getting angry. Pickleboy is not happy with these rules and vows to not follow them.
List of Rules
THOW SHALLT RESPECT ME!! A.G.P.
Basically, Respect Angry Grandpa.
2. Kiss Nobody Ass but MINE
Pickleboy must kiss Grandpa's ass and no one else's at his house.
3. Don't sing around ME!!!
Pickleboy cannot sing in Grandpa's house. He did briefly, causing grandpa to get mad.
4. THAW SHALL TREET ME LIKE AN ADULT!
Pickleboy is son, Grandpa is daddy.
5. YOU WILL TAKE ME OUT FUR FUN!
Pickleboy must take Grandpa out once or twice a week for fun.
6. DON'T CUS YO DADDY
Pickleboy can't cuss in Grandpa's house.
7. Thow SHALL NOT STEEL MY TOYS!
Pickleboy can't take away Grandpa's weapons, and there is no negotiation about it.
8. YOU AUNT MY NAYBUR! DON'T COME OVER ALL THE TIME!!
Pickleboy must not come over as often with the camera.
9. TRET ME ADULT!
Same rule as Demandmint #4, which means it's double important.
10. THOWE SHALL KISS MY ASS!!
Pickleboy can't do anything about these rules.
Community content is available under
CC-BY-SA
unless otherwise noted.