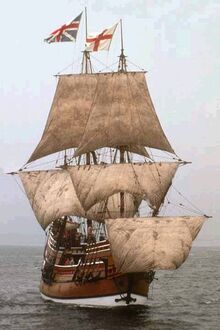 Thomas Green ll also known as the "The Seagull" (1635 - 1714) was the ancestor of Charles Green Jr better known as The Angry Grandpa. He was born on a ship named the on "Speedwell" His parents embarked on the "Speedwell" May 28, 1635, with Capt. John Chappell.) The ship departed from Holland England.
Biography
His Father Thomas Green I was born in 1575 in Bobbing, Kent, England. and married Martha Malone, born in 1607, in the Netherlands, before 1635 in the Netherlands. The couple boarded the ship, Speedwell, on 28 May 1635. Before they arrived in the New World they had a son, Thomas Green II, born at sea in 1635. Thomas Green I died in Petersburg, Virginia, after 1635. Thomas Green II had an unusual nickname, "The Seagull," derived from his birth at sea on the ship, Speedwell, while Thomas I and Martha were coming from Rotterdam, Netherlands to Virginia, in 1635. He married Martha Elizabeth Filmer, born 1640 in East Sutton, Kent, England, in Williamsburg, James City County, Virginia. Thomas and Martha had seven children: Thomas Abner Green III, Henry Filmer Green, John Green, Elizabeth Green, Mary Green, Rebecca Green, Abraham Green, William Marston Green, and Hannah Green. Thomas Green II died in Amelia County, Virginia in 1714. Martha Elizabeth Filmer Green died in Petersburg, Virginia. This is a duplicate of another profile, Thomas "the Seagull" Green. I didn't not merge them because there are problems with the other profile. For example, it shows that he married his mother after the death of his father. I don't have time to sort it all out now, so I am leaving the two separate for the time being.
Community content is available under
CC-BY-SA
unless otherwise noted.