Not to be confused with Angry Grandpa's ex-wife.

Tina Dandridge (* ∼Feb 20, 1969) was a close friend of The Green family. She was a neighbor of Angry Grandpa in the Creekside trailer park, Grandpa's prior residence. She serves as the secondary antagonist of the series.
Background
Prior to her first appearance, she is heard in the background of some videos, like Grandpa's New Table.. She was first seen during the 4th of July blowout video [1], while Angry Grandpa was vlogging about thanking troops for keeping the country free, Tina kept yelling to people at her house, causing Grandpa to yell at her to shut up in anger. This angered her to drive up to Grandpa's house and argue with him. Grandpa must have met her or heard of her prior to this video, because he already knew her name. Michael kept his dad from coming down the porch and beat her since she wasn't afraid of engaging in physical violence. Later, it was assumed that her boyfriend came out of the car to help back her up. Tina suddenly charges up the porch with a coat hanger, causing Grandpa to run inside his house. The two then leave and Angry Grandpa comes out saying if she wasn't a woman he'd "beat her down the street". Michael seems to be apologetic towards Tina, but she tells him to "smoke her back tires" and drives off.
She was mentioned in Angry Grandpa gets egged! (Prank!) were Michael and Bridgette egg Angry Grandpa's van and they leave and not to make him think it was Tina who egged his van for telling her to shut up.
Michael got her to participate by having her act as his new roommate as a prank. She packed her bag and sat at his table and demanded he'd cook food for her now that she had moved in. He continuously told Michael to give her money back and leave but she wouldn't until he broke the coffee maker and the coffee pot. She then threw a cup onto him before leaving, with Michael explaining to him it was a prank. Though throwing the coffee onto grandpa was her own idea not Michael's.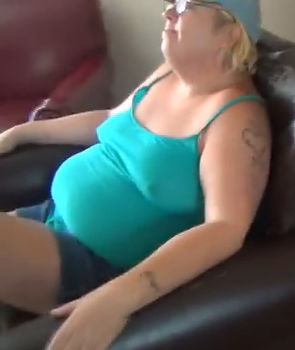 Tina also decided to become "Bloody Mary"1 for the Bloody Mary Prank. She hid behind Angry Grandpa in the mirror while it was dark, and screamed loudly when the lights were turned on. She kept asking Grandpa what he did he want since he called her 10 times. She stayed on the bed, trying to seduce Grandpa and refused to leave during the whole video.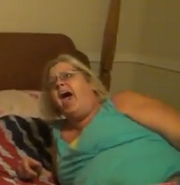 In Grandpa's Corner, she appears in The Freddy Krueger Prank video 2, but is not loud or angry.  She is welcomed and sits down with Angry Grandpa.  She even shows concern for Grandpa's hand due to it being injured from The Pumpkin - 2 video 3.  The two begin laughing and cutting up a little bit before the video ends.  This makes fans think that they're not always in feud with each other.
She appeared in Unhappy Halloween 4 barging into Angry Grandpa's trailer with her boyfriend and steals his microwave and laptops.  She then comes back trying to take the couch.  She then orders the children to jump on his furniture and steal the TV.  When Angry Grandpa opens the door, Tina and the children scream Happy Halloween and tells her that she loves him and have a Happy Halloween.
In the video Grandpa goes barking mad, she and Grandpa both started arguing when Grandpa told her to control her dog. Then Tina came to Grandpa's trailer to fight him. In the end, Grandpa started to say sorry and Tina accepted his apology.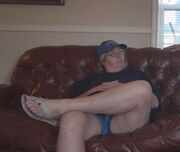 She also got pranked in the video, Grandpa Seduces Tina the Prank 5. Angry Grandpa called her to come over so he can apologize about how he's a bad neighbor. She started to talk with Grandpa and then she had a fight with him when he was trying to seduce her. Before Tina left, Michael told her that it was a prank. In the end, Tina pranks Grandpa with her knowing that a prank was being played on her.
She helped Grandpa prank Bridgette and Michael on Mother's Day 6.Grandpa told Michael that he finally found a woman after being divorced for a couple of years and is on her way.  He invites Tina in, and right away, Michael assumes that it's a prank right away.  Grandpa and Tina convince the two they are together by showing a phone that Grandpa bought for her, lighting her cigarette for her, and even giving a peck on the shoulder.  Tina then tells Grandpa that he will not be a part of Michael's videos anymore because she shows sympathy for Grandpa due to Michael's pranks, which cause Michael and Bridgette to argue saying they will even film from the window if they have to.  Grandpa starts to get angry at the two, wanting them to leave.  Tina then intervenes to calm down Grandpa and pushes the two out on the porch.  Michael and Bridgette walk back in, saying they have every right to be here since the trailer is in Michael's name.  They start to say that Grandpa and Tina are joking, but they say that are always put together.  Bridgette then gets into the argument and a battle is about to ensue with Tina and Bridgette with Grandpa provoking them.  Suddenly, Grandpa gets on his knees and proposes to Tina in front of everybody.  Tina accepts right away, causing an uproar, causing Michael to say that they are both miserable people and it will never even work.  They decide to leave furiously, with Bridgette saying she'll give it a day to see what happens.  As the two begin to drive away, Tina and Grandpa come out saying "Happy Mother's Day!".  Thinking that they're being laughed at, they pull back in, and realize that it's a prank, since those two would NEVER even consider being in love.  Michael asks one last time if they are together, but the two go in the house and decide for themselves by eating some macaroni and cheese, leaving behind a fart by Grandpa.  They never gave an answer.
Tina was never seen or mentioned again for several months after this prank, until "The Walking Dead Prank" 7 that occurred October 2014 in which she assisted Michael, by pretending to a zombie in pursuit of a terrified Grandpa.  After the prank was revealed to Grandpa, Tina complains about having to get Grandpa to buy her a new bra since he broke her only one during the struggle.
She pranks Angry Grandpa in the video, Grandpa Kills Tina 8. She comes over after Grandpa made cookies and eats one of the cookies. Then, Micheal tells her that he put extra eggs in the cookie and Tina says that she can't eat eggs then she pretends to die after eating the cookies. After Grandpa attempted to do CPR on Tina, she got angry and left. When Grandpa found out it was a prank, Tina came back in and cussed out Grandpa and then threw the cookies all over the place. She is no longer Grandpa's neighbor, but she helped move Grandpa's stuff.
During a video involving Angry Grandpa's new home. She has her son with her when Grandpa comes home annoyed that he can't get a day to himself since he moved in. After screaming at everybody, Tina and Jennifer agree to take the kids somewhere else to swim while Tina screamed about doing nice things for Grandpa and she gets treated like dirt. She leaves the yard after Michael angrily mutters her to leave. She was heard in Michael's Worst New Year's Eve Ever! blog for 2016, but was never shown on camera.
In April 2016, almost 8 months since her last visual appearance, Tina returns back to the new home to help be a challenger in The Tin Can Challenge. She was forced to eat spam, wienies, the lining of a cow's stomach, a burger in a can (at her own request), and surstromming as a prank to her (rotten fish). She was very angry at Grandpa for getting all the fruits in a can, and even a cake in a can. At the end of the video after she threw up from the surstromming, she tells Michael he WILL be pranked by everyone, and tells Bridgette to turn off the camera.
Betrayal of the Green Family
In March of 2017, Tina began to post videos about an incident of why Michael removed her name off the videos she was in (Ex: Grandpa Kills Her, Grandpa Seduces His Neighbor) as well as other incidents such as Charlie attacking her and Albert as well as not being paid enough for the videos she was in. Other incidents also included Michael's house compared to Grandpa's, trolls doxxing her, and Grandpa's ex Callie making more accusations about Grandpa. These multiple videos began to get the attention of Michael and he posted a vlog about how her videos were lies with proof such as breaking Grandpa's knee in the clown video back in December of 2016 as well as text messages of Tina dealing pills. Michael has addressed that Tina will never be in another video ever again, and their friendship is over. This was of course a lie from Michael as later in the future, Tina would again be seen in other vlogs.
2020 Health Incident
On March 3, 2020, Tina was livestreaming from a hospital room, and when she flips the camera, her left leg has been amputated which was caused by neuropathy. She claims she is not phased by the loss of her leg and that it is another challenge in life. She calls her new amputation stub "Little Dan" based off of Lieutenant Dan from Forrest Gump. She states that her house will have a ramp installed and she will be in a wheelchair until a prosthetic can be placed on the remainder of her leg.
Quotes
YOU SHUT THE FUCK UP YOU OLD FART! (yelling from her house)
I will beat your ass and you will know it!
I AIN'T AFRAID OF YOU EITHER!!!!!
DON'T WORRY FAT ASS I'M COMING
You the joke!
Now read this book! NO TV! NO LIGHT! SLEEP TIGHT! (Tina grounding Angry Grandpa)
No not YOU, Mr. I gotta Cook this, cook that, cook this, and tear up the neighborhood.
Do something! Do something! Bring it on!
Hey! Lookie-there, there's backup!
LET HIM GO!! LET HIM GO!! (Coming up the porch with a coat hanger)
I can understand that he's old and grumpy!
Go make me some coffee right now, right now!
Oh that's real smart, now make me some coffee!
Oh you wanna call me nothing? I got the money you need old man!
My pimp's comin' over later!
Don't matter to me, you got another coffee pot somewhere, get the coffee making, matter of fact, cook me some bacon too.
I'll be here when you get back baby! *Blows a kiss* Smooches!
 NOOOOOOOO!!
What happened to your hand?  Beating off too hard?
YOU CALLED ME!!!
You're backwards hillbilly! BAAACKAAARDS!!!
Fucking Trick or Treat?
Ruff ruff bitch!
9-1-1 bitch!
You better move your Fat Son out of my way!
Take double gun barrels buddy, boom-boom bitch!
Go Old Man We will take the couch.
Get to the point Fat Fuck!
I would not fuck with you with an elephant's dick!
I don't give a fuck, Elvis.
FUCK DAT, HELL NO!
I'M NOT TAKING THE FUCKING CANDY!!
I would never fuck with a fat white man!
You're too far for that.  You're a piece of shit neighbor.
Ha!  You might want to eat them because you're the fattest motherfucker in the trailer park!
And that's why I like chocolate..And I like cream.
YOU HAVE NO TEETH!  YOU SUCK THE CHOCOLATE!
Aw Jesus, you got a bad case of gas!
I am NOT changing that fatass's diaper!
WHEN YOU TASTE IT, I'LL LEEEEEEEEEEEEEAVE!!
SHUT UP AND LISTEN!
LAAAY DOWWWWWWWWWWWWNNNNNNNNNNNNN!!!
For Christ's sakes, if you would listen to the story, you'd go night night!
GO TO SLEEEEEP!!
I'm not going NOWHEEEEEEEEEERRRRRRRRRRRREEE!
Wash your nuts!  Wash your ass!  Scrrrrub your balls!
Fat fuck can't do shit for himself.
Only a fat fuck would sing to a bag of chips.
People look up to you and you'll suck a quakers dick?
Illiterate bastard Grandpa... How's that make you feel?
He just farted on demand... I thought it was movies on demand, nasty motherfucker...
SHOO GODDAMN!!
I'd rather kiss those dogs than Grandpa.
Somebody's buying me a new bra, this is the only bra I own.
Did I fucking stutter when I spoke?
Holy shit!  And you call me fat!  Look at that shit! Ah ha ha ha!  Michael broke the fucking chair!
YOU ARE AN ANGRY OLD MAAAAAAAAANNNN!!!
ARE YOU PROUUUUUD!?
Fuck you, you ruined a little boy's birthday, and that's why you're Angry Grandpa!
Aw shit, I ain't giving this motherfucker CPR!
ANGRY GRANDPAAAA!!! WAKE UUUUP!!!
No, there ain't nothin' wrong with that bastard.
Fuck you and your fat son! Fuck you, fuck you, fuck you, fuck you, fuck you! Fuck the A-Team, I don't give a fuuuuuuck!
It ain't too bad, but it's kind of fuckin' fluffy.
Um, well, what the fuck you put in these bitches? Why they so fuckin' big? I'm not seeing no sugar cookies with no fuckin' sugar on 'em.
You gonna live in the doghouse, over the fence bitch!
IT'S YOURS NOW! CAUSE THIS IS MY HOUSE DOG!
GET IN YOUR BED!
(Singing) Oh yeah, Mr. Postman!
Good Morning to YOOOOU! You live in a ZOOO!
Uh uh, you lying fat fuck you did that goddamn table, and I want you to pick the motherfucker up!
Well you got room to talk! I'd be a vegetarian if bacon grew on trees motherfucker! You smell like ass!
You are a menace to society, get in here now.
30 days with you and me baby, rock and roll!
I don't have to do the right thing because I don't believe in the right things... Bitch.
I'm not going nowheeeeeeeeeere! I'm not leaving! I'm gonna be here 30 days!
SAY YOU MEAN IT!
If you're gonna ride, I'm gonna ride too bitch.
If you fat fucks break my son's shit, I'm gonna be mad- Look at the fucking tire, look at the tire!
FUCKING TIRE'S POPPED BITCHES!
Hey, come blow up this tire with your mouth bitch.
GET OFF IT!!!!!!
Ungreatful fucking old bastard, I hope he farts himself to death!
I ain't even got to take a bath in his fucking pool!
WE DON'T DRINK COFFEE in my house! We Drink Coca Cola!!!
WHO INVITES PEOPLE TO THEIR HOUSE TO THROW UP ON!?
THAT SMELLS LIKE A HOOKER!
I hate you... And your wienies...
Ohhhhh hell no, I hate this enough in the projects, I'm not eatin' this fake ham!
I HOPE YOU CHOKE ON THAT YAM! HAPPY THANKSGIVING!
That's ok cuz that don't digest, you'll shit that in 3 weeks, have fun.
That looks like a big pile of shit.
WHAT IS IIIIIIIIIIT!?!?
That's disgusting tho'...
YOU ARE GONNA GET PRANKED TOO! YOU ARE NOT SPECIAL PICKLEBOY, AND GET THAT CAMERA OFF OF ME!
You better get that camera off of me that's what you better do!!
WHOOOOOOOOOO DOES THAAAT!?!?
YOU INVITED ME OVER HERE TO PICK ON ME? I DON'T THINK SO BUDDY! PUT IT DOWN! TAKE A LOOK AT MEEEEEE!!!!
You can't make me do nothing either you just about like him Pickleboy!
I'LL NEVER COME IN HERE AGAIN!!!!
SHUT UP AND ENJOY YOUR BIRTHDAY!!!
What does that mean? you're the one who did it!
YOU DID IT!!!! YOU DID IT!!!!
SCARE ME!!!! SCARE ME!!!!
You know what.. You make a skunk run away.
YOU CANNOT (belly bumping) COOK!!!
DID YOU NOT SEE MY SHIRT? BOOOSSSS, BITCH, BOOOOSSSS!
LEEEAVE NOOOOOOOW!!!
GET OUT OF MY NEIGHBORHOOOOOD!!!
Trivia
Seems to want to act tough like a man.
Isn't afraid to stand her ground despite her boyfriend being there.
Many fans see her as the female equivalent of Angry Grandpa.
Jimmy, Angry Grandpa's youngest grandson, affectionately calls Tina "Big Mama".
Despite her empty bravado, Michael and Grandpa would most likely have won the skirmish (until her boyfriend showed up)
Despite her calling Michael a fatass, they've formed a close friendship and he still asks her to be involved in various pranks.
Says she does not have sex with fat males despite her being fat as well.
Grandpa used to say if he was younger he'd knock her ass out.
Tina and Angry Grandpa gradually established a close friendship.
Has the same first name as Angry Grandpa's ex wife, Tina.
Claims that she is married to a pimp.
Supposedly wears only one bra. (Revealed in The Walking Dead Prank)
Even though she insults Michael at times, she still likes to join him for pranks.
She seems she is afraid of fake slime.
Broke her glasses over the dress.
Is always seen licking her lips. Some fans have even went as far as commenting saying she could be addicted to cocaine since an addict is known to lick their lips constantly.
She hates it when Bella (Michael and Bridgette's dog) humps her leg.
According to Angry Grandpa, she is being evicted by the trailer park she resides in, and has until July 28th to move out. The reason why for this eviction is currently unknown.
She knows that Angry Grandpa is getting older, and will stand up for him when she feels that he is being mistreated or taken advantage of. This is most evident in the video where she, Grandpa, Michael, and Bridgette try to break Charlie's video game addiction.
Community content is available under
CC-BY-SA
unless otherwise noted.