There have been a number of vehicles featured on TheAngryGrandpaShow, all of which are described in detail here. The following is a chronological list of cars owned by Angry Grandpa, Bridgette, Lauren, Tina, and Jennifer.
Angry Grandpa's Cars
Old Red Mercury Villager
This is the vehicle in which Angry Grandpa had owned in earlier videos of The Angry Grandpa Show. It didn't have any hubcaps. Angry Grandpa had broken the windshield in it with a socket extension when he was mad, saying that it wasn't his fault that the windshield got in the way. There have been numerous pranks involving this van. Michael played a prank on Angry Grandpa by wrapping a smoke bomb in a box pretending it was a Christmas present, and it filled smoke in the entire van. Michael played another prank on Angry Grandpa by opening the door to the van when Angry Grandpa was in it, and then throwing a snowball in it. A fight in the snow soon followed. Michael played yet another prank on Angry Grandpa so that the van wouldn't crank when he tried to start it. Angry Grandpa thought that the battery was dead, so he destroyed the battery.  The problem turned out to be a wire that Michael had unplugged on the engine. Another prank involved Michael having one of their neighbors in the trailer park "steal" the van and Grandpa's $20.00 when they stopped at his yard sale. This van was used as a makeshift way to keep warm for one night for Angry Grandpa, Tina, Michael, and the boys, since the electricity in the old trailer was shut off at one time due to Tina not paying the light bill.  In a Q&A video, a fan asked what happened to the van. Angry Grandpa said it wasn't worth anything and it got scrapped.
Dark blue Ford Focus
Angry Grandpa and Tina have both driven this vehicle in various videos. Tina wanted Angry Grandpa and Michael to pick up a piece of furniture out of the trash from one of their neighbors in the trailer park, and they used this car to retrieve it. When Angry Grandpa and Tina were in the process of getting a divorce, Tina scratched the paint on this car with various drawings and writings. Michael suggested Angry Grandpa to buy similar-colored spray paint to cover it up. It didn't look very great after Angry Grandpa was spray painting the car, getting angry thereafter. Angry Grandpa can barely get in and out of the passenger's side of this car. Angry Grandpa tried to start this vehicle one day, and it was running "like a fucking tractor" by the noise the engine was making, according to Michael. During this time, Michael played a prank on Angry Grandpa by throwing a string of firecrackers under the car, startling Angry Grandpa.
Mystic Blue Pearl Mitsubishi Lancer
Angry Grandpa bought this vehicle on his own. Without Michael knowing, Angry Grandpa pulls on to his driveway in this car and Michael asks where he got it, Angry Grandpa told him he bought it himself. He also says that is red truck is Michael and Bridgette's even though it is a gift from them. After arguing with
Michael Angry grandpa drives off.
Sliver Ford Freestar
This is Angry Grandpa's previous vehicle. Angry Grandpa bought it from a car dealership called J.D. Byrider. Angry Grandpa has had several flat tires during the time he's owned this van, one during Halloween 2012 and another in November 2013. This van also blew out the transmission when Angry Grandpa was driving down the road one day with Michael. He was originally going to let J.D. Byrider keep the van if they wouldn't honor their warranty to repair it. Instead, Angry Grandpa changed his mind and had them fix it. He had to pay for the repair himself, although it was a thing that was supposed to be covered by the warranty when he was purchasing the vehicle.  Michael and Bridgette played a prank on Angry Grandpa by egging the van, making him think that his neighbour Tina did it after the 4th of July Blowout. Michael played another prank on Angry Grandpa by splattering fake blood and bits of broken coconut on the hood to make it seem like that Angry Grandpa killed someone when driving home drunk the night before.  Angry Grandpa actually called Michael the night before and didn't remember it, where Michael set up a safe way for him to get home.  Angry Grandpa was going to accept that he'd go to prison and was going to come clean with the crime that he thought that he committed of killing someone.  The van was a make shift home for Angry Grandpa for about an hour when his new trailer didn't have any electricity from when a transformer blew in his area (Which Angry Grandpa initially thought it was because Michael didn't pay his electricity bill). Angry Grandpa had a mechanic perform a tune-up on the van, changing spark plugs and filters. Shortly after the van was tuned-up, it was traded in on Angry Grandpa's newer van. The reason for the van to be traded in was that "the air conditioning was not working".
White Chrysler Town & Country
Angry Grandpa purchased this van from a car dealership called Crews Chevrolet. He traded in his former van to get this one. It has been highly speculated that Michael purchased this van for Angry Grandpa from their YouTube money, and may have possibly caused a lot of people to unsubscribe from their YouTube channels. Angry Grandpa recently drove the car in to his swimming pool and states that this broke the car. He then owned a red Chevrolet which Michael bought him for his 65th birthday.
Grandpa's New Chevy Truck
This is the vehicle that Angry Grandpa got for his 65th birthday, It has been used it in various videos like
The Burger King Chicken Burger
[1]
and
HAPPY BIRTHDAY ANGRY GRANDPA!!
[2]
. He has since traded it in for a 2016 Chevrolet Malibu because he didn't need a truck that big.
Tina's (Grandma)'s Cars
Oldsmobile Cutlass Ciera
After Angry Grandpa divorced Tina (Grandma), Tina was using this vehicle to drive around in. The only video it has been featured in was the Angry Grandpa vs Grandma video. It is unknown what happened to this car.
Tina's Toyota Yaris
When Tina moved to Syracuse, she needed a car, so Kim and Michael bought their mom a Car. When they were going out to buy this car, they pranked her by thinking they bought her a BMW with Front end damage from an accident, when in reality, they bought her This Yaris, the car that she wanted. In Early May 2018, she drove her little Red car from New York, all the way to South Carolina for a family reunion. It turned out that she made the descion to move back to South Carolina, and hasn't changed her license plates ever since. 
Lauren's Cars
Dark Grey Chevy
Angry Grandpa got this car because he didn't need a big truck, that caused him to mess his knee up, which later, after the fridge accident, made him drive in a wheelchair.
1955 Chevrolet Bel Air (Grandpa's Dream Car)
Angry Grandpa's first car was a 1955 Chevrolet Bel-Air. His parents bought it for him for $250 when he had just received his drivers license. No more than a year later, his parents took it away from him and gave it to his sister Charlene and her husband and him an unnamed "ole rag-ass car", because Charlene and her husband were going to California. En route, the car broke down in Columbia, SC, and Charlene and her husband sold it to a junkyard behind Angry Grandpa's back. On December 13, 2016, Michael got Grandpa a brand new 1955 Chevrolet Bel-Air with just under 110,000 miles, including all of the original features to the car. This caused Grandpa to break down as this was the last thing on his bucket list and his list is complete. Grandpa owned it from 2016 until he died on December 10th, 2017 from cirrhosis of the liver. A Few weeks later, Michael and Bridgette moved the car to their home, and felt bad that Michael's father could no longer drive his dream car. 
Bridgette's Vehicles
Bridgette's Old Ford Escort Coupe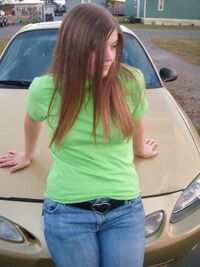 It is presumed that this car used to belong to Bridgette, because she posed in a picture standing in front of it. It has not appeared in many videos on The Angry Grandpa Show. It is seen parked in the empty lot next to the Old Trailer in "Money Order Mayhem Part 2". It is unknown what happened to the car, whether if she traded it in for her 2011 Toyota Corolla or had sold it.
Wrecked Toyota Corolla
This car belongs to Bridgette. Bridgette drove Michael everywhere in it, since Michael has been rumored to have had his driver's license revoked. Angry Grandpa has been in this vehicle a couple of times, during the "Nursing Home" and "Still Married" pranks. He evidently struggles to get out of the back seat of the car. An example of this is during the "Still Married" prank[3] in which he can be heard saying "Like I can get out' this mutha f***a, God Damn!!"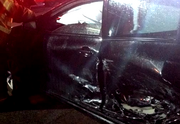 As of December 12th, 2013, the car has been scrapped since it was totalled in a car accident, announced by Michael and Bridgette. [4]
Brand New Toyota Corolla
Bridgette got this car directly after her 2011 Toyota Corolla got totalled out in a car crash, in whih Bridgette and Michael were seriously hurt. It was driven daily until Michael got her a new 2017 Chevrolet Tahoe, as an early christmas gift. Now, it is unknown how much use it gets because of the new car, but is presumed to be descently little, and lightly used. Before their trip to Orlando was become of, Bridgette stated in one Vlog that the car has less than 20k miles on it.  They gave the car to Jennifer.
Bridgette's New Chevy Tahoe
This car was an early Christmas present from Michael for Bridgette. Bridgette claims it is more difficult to drive than her prior car due to its bigger size, but says that it is fun to drive and has become the car that they drive daily.
Jennifer's Cars
2006 Chrysler Pacifica Touring
Angry Grandpa bought Jennifer this car in late September so that she could get back and forth from school. According to the video " GRANDPA BOUGHT JENNY A CAR!! ", the car cost around 1500$ USD. Jennifer once was locked out of her car by one of her sons, and Michael and Bridgette had to go and pick her up so she could get her spare keys. Jennifer stated in a livestream on her YouTube channel, she stated she sold the car to a gentleman who needed a vehicle.
Community content is available under
CC-BY-SA
unless otherwise noted.