While destroying things, Grandpa has used quite the arsenal to get the job done. Some are more common than others.
Bare Hands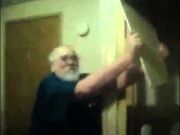 Angry Grandpa has sometimes used his bare hands to destroy stuff. In one instance he destroyed the walls with his own bare hands for the most part after he found holes in the guest room. On some instances he has destroyed his wooden kitchen chairs with his own hands.
Stanley Hammer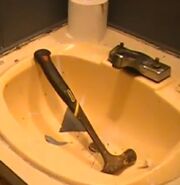 Angry Grandpa used the hammer to destroy the bathtub in the old trailer after Bridgette set off fire crackers when Michael was in there taking a shower as a response to him playing a prank on her. He destroyed the sink shortly after. Michael paid Mexicans he had hired from Lowe's to rebuild the bathroom. They needed a hammer, so Michael gave them the hammer, thinking it would be better than to have Angry Grandpa having it around the house to destroy things with. Angry Grandpa was searching for the hammer to do "home remodeling", thinking it would be in the shed, and was unable to find it. He didn't believe that Michael would give it to the Mexicans. After going to their trailer to retrieve it, he was unable to get it back. He was upset because he paid $5.95 for the hammer, and said it was a good hammer.
The Annihilator
The Annihilator is a crowbar/wrench/hammer mixture that is the most used weapon by Angry Grandpa.
See more at the article.
Betsy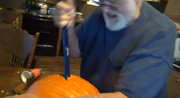 Betsy is a blue crowbar that hangs in the living room in between two pictures of Angry Grandpa carrying other weapons. It is the queen of weapons, after the Annihilator was sold, Betsy took its spot as one of the most used weapons for periods of time. Betsy has been used numerous occasions such as destroying microwaves, pumpkins, and even a PS4. Betsy did not normally have a name until the 300,000 Subscriber Aftermath video.  Betsy is also a good tool for cutting cakes.
Baseball Bat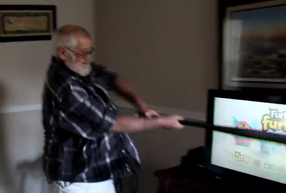 The baseball bat is a weapon that is the most rare to see Grandpa with. He only has it in very few videos such as Angry Grandpa Hates Chris Price
[1]
by threatening to beat him with a plastic bat, GRANDMA'S BACK! (THE PRANK)
[2]
by destroying a TV with a silver aluminum bat, used briefly by
Tina
in the iMustDestroyAll prank
[3]
explaining how she would take care of
the intruder
, UNSAFE MELTDOWN (GRANDPA GOES CRAZY)
[4]
 by destroying the lock on a safe full of candy, and held briefly by
Bridgette
 at the very end of GRANDPA GETS ROBBED! (PRANK BACKFIRE)
[5]
, when she got angry for being pranked into thinking she was getting arrested for robbing Grandpa. It's also Grandpa's "Public weapon", as he sometimes has the bat in the van. Since October 1, 2014, Grandpa has been more often seen with a red aluminum bat. Angry Grandpa seems to sleep with this weapon, because he used it after Michael broke Angry Grandpa's bed in the "Hop on Pop" prank.
Cinder Block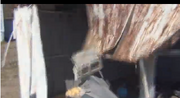 The Cinder Block is definitely the heaviest tool used by Angry Grandpa. It is mostly thrown at the object he wants destroyed rather than to hit it such as with the Annihilator. It's most prominent use was on the Shed. It is the only time he's used it, and with good reason.
Reciprocating Saw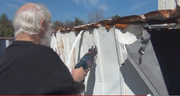 Another weapon used by Angry Grandpa is the Reciprocating Saw. AGP used the saw to cut down a wall in his shed after repeatedly hitting it with the Annihilator and smashed the wall with the Cinder Block, afterwards. Horrifyingly, it isn't the only electric construction tool he's used to demolish. It has destroyed a washer and dryer, before Grandpa switched to the Annihilator to finish them off.  He's even used it on a drawing board with minimal effect.  It's very powerful but is only effective on bulky appliances as well as chairs. It was also used to saw a dry erase board after Michael and Bridgette tried to get him to draw his life on it, much to his chagrin. It is also the most dangerous as Grandpa sometimes has the fast moving saw blades near his legs or on his foot, risking serious injury. Angry Grandpa used this weapon to destroy a lock box that he had his candy in. Angry Grandpa was mad at it since the key broke off in the lock and he was trying to get at his candy all day long. 
Lauren's Gun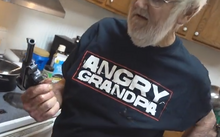 One of the "newest" weapons, Grandpa found an old German Luger pistol for a gift to Lauren. The gun however is old and broken, thus it is rendered unusable. According to Lauren, this was her grandfather's gun and that he got it during World War II by trading an Italian man who got the gun from an S.S. Officer. The two men decided to have a trade. Lauren's grandfather traded in coffee, cigarettes, and chocolate in exchange for the gun. While the gun is unusable, Bridgette and Michael were so scared of it, that Michael and Bridgette just about left the house due to Grandpa pointing it around them.
Drill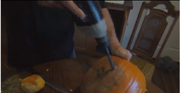 The Drill is the second construction tool used by Angry Grandpa. It's only appearance was brief, only for one minute when Charlie was making a pumpkin. The weapon is only used there was it has no destruction capabilities other than holes, making it useless to Grandpa in a fit of rage.
Assorted Knives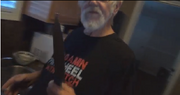 Angry Grandpa's most dangerous weapon. Grandpa has used two different kinds of Knives during his rampages. The first kind appear in "Angry Grandpa VS. The Pumpkin" where Grandpa stabs it into the pumpkin but it snaps instantly and Grandpa gets pissed. It hasn't appeared since. It appears to be a straight razor, but others speculate it to be a box cutter. The second kind is your standard knife. It is used to threaten Michael and prepare food more than destroy. It has had it's fair share of destruction though, such as with the Slip'N'Slide. It appears to be a military knife in some episodes, with indentations on the blade, but an up close shot makes it look like a kitchen knife or a Chef knife.  In Angry Grandpa Vs. The Pumpkin - 2, during his attack on the pumpkin, Grandpa injured himself with the knife in the process, but continued the attack.
Big Blue Hammer
Angry Grandpa has used the big hammer to destroy his kitchen table in his new trailer and a fish tank that Michael and Ben were using to hold the alleged "Gaboon Viper" that they caught in his yard. He also used it to beat on his lawnmower after getting angry at Michael for not picking up the trash out of his yard before he started mowing.  It has a distinctive blue handle on it. 
"Evil Axe"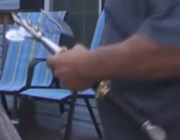 Angry Grandpa has used the "evil axe" to further destroy a broken lawn chair that was near his curb. He also used it to threaten Michael and Bridgette to leave his trailer, saying he didn't want to go to the wrestling show that Michael paid $51.00 a ticket for.  Angry Grandpa also used this weapon to try to open the lock box that he kept his stash of candy in, after Michael broke the key off in the lock. He Has Also Used It To Destroy A Pumpkin.
Sword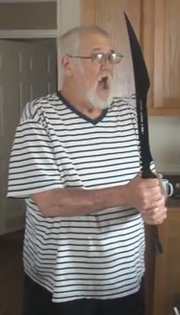 First seen in Mail Bag Monday #5, Angry Grandpa has a sword. It has not yet been used to destroy anything. It's first use was to threaten Michael to not use fart bags. In the video "ANGRY GRANDPA DRIVES INTO SWIMMING POOL" he uses the sword on the pool causing visble leaks after driving into it.
Tasers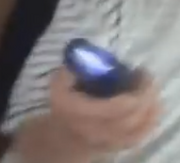 First seen in Mailbag Monday #5, Angry Grandpa owns a couple of Tasers. It has been used to threaten Michael after he stole his hat.  It was used again on Michael and Bridgette after Michael broke his bed with the Hop on Pop Father's Day Prank. Michael freaks out when Angry Grandpa threatens him with the taser on multiple occasions. In addition to Angry Grandpa's original taser, he also has a second one. Michael used it once to scare Angry Grandpa when he was giving Angry Grandpa a haircut in his kitchen.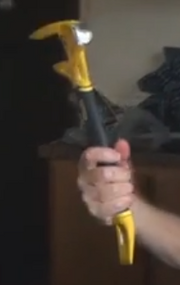 Angry Grandpa said in Mailbag Monday #5 that he needed a new hammer. First seen in Mailbag Monday #6, Angry Grandpa received this hammer from a fan.  It is believed that this is the same model of hammer that Angry Grandpa used for his promotional picture for his interview in the Charleston City Paper. It was used by Angry Grandpa to beat on his push lawnmower after trashing it, although it did very little damage if no damage at all.  It was given the name Mr. Avenger after it was used to destroy Michael's PS4 and coffee table due to Michael not coming over to make Christmas Cookies with his father.[6] After Grandpa forgot it at Michael's place, Michael made it his own and won't ever give it back. Grandpa has since reclaimed Mr. Avenger from Michael when he destroyed his WWE action figures and wrestling ring.
Random Objects
If Angry Grandpa doesn't have a weapon in his hands, he'll grab the nearest object and throw it at anyone in his range. These items can be assorted from cans of food to kids toys, even throwing a sea horse dildo at Michael. Such items have included some, but not limited to the following:
Ladder
Food
Little skateboard
Lawn chairs
Socket extension
Coat hangers
Buckets
Slip N' Slide
Firecrackers
Vacuum Cleaner
Pumpkin Debris
Christmas Tree
Coffee
Plates
Lasagna
Clothing
Tables
Powdered Doughnuts
Random Toys
Hammer
Shoes
Pinwheel Box
Shake Weight
Angry Grandpa once kept all of his weapons on display hanging in his living room in the new trailer. Angry Grandpa removed the weapons from the wall because he felt that his grand kids may get hurt if one of them fell on them or grabbed one and tried to use one.
Read more at the article.
Tina's Chainsaw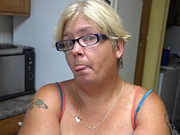 Tina threatened Angry Grandpa with a chainsaw after Michael and Angry Grandpa return to Angry Grandpa's trailer after their visit to Philadelphia.
The "Pearl" is the name of a chainsaw owned by Grandpa. In a vlog, he cut himself with the weapon, causing bleeding, which required six stitches to close up the wound, as a result.
Community content is available under
CC-BY-SA
unless otherwise noted.