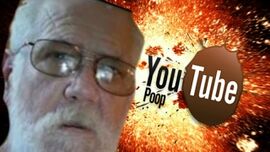 Youtube Poop, often abbreviated to YTP, is a style of video that is described as a mashup of anterior media that is heavily edited for the purpose of randomness, lulz and entertainment.
Origin
YTP's have existed since 2004. In 2007, there was an influx of poops uploaded to youtube.
Angry Grandpa
Examples of AGP Youtube poops are "Angry Grandpa goes on a rampage and kills Bridgette". The video has amassed 1.2 million views. Others are "The Wrath of Psycho Grandpa" with 320,000 views and "Pickleboy Kills Angry Grandpa" with approximately 260,000 views.
Community content is available under
CC-BY-SA
unless otherwise noted.